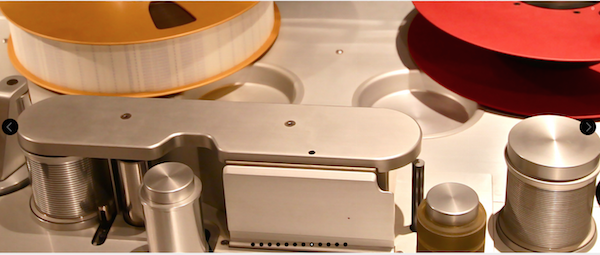 Michael Fremmer: The label is called "Analogy Records" but for now it doesn't sell records. It only sells "master tapes".
How can it do that? It records its artists to multitrack digital at 192/32 bit and then if you order a copy, it mixes down from the multitrack recording to produce an analog master tape that you get.
You can go to the website and see the artists and recordings that are for sale. With the exception of Peter Erskine, I'm not familiar with any of the artists but that wouldn't stop me from trying one of these just "because".
Most interesting is that the tapes are available in two levels: "basic" and "premium". "Basic" is available in both two or four track formats at 7.5 IPS CCIR EQ only on SM468 tape. "Premium" is "completely customizable", allowing you to choose different tape formats, speeds, emulsions and EQs. Each comes in a hand made collector's box with album booklet, unique design aluminum flange and "much more".
Cost? Basic tapes are about .....
Read more at http://www.analogplanet.com/content/analogy-records-sells-only-master-tapes#JAeMmXTG8jEloKdF.99
Continues @ http://www.analogplanet.com/content/analogy-records-sells-only-master-tapes#8clx3EXq2hiL8SCr.97