From The Very Top Of The Stack
The befittingly named 'Stack' from EarMen comprises a slimline streamer, fully balanced DAC and an amplifier capable of powering almost any headphone users may care to throw at it.
Image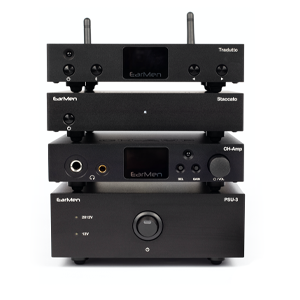 Furnished with both optical and coaxial digital outputs, Staccato offers support for major streaming services including Spotify and TIDAL along with Bluetooth and USB external audio capabilities. Staccato can be fully controlled via EarMen's 'Stream' app available for both iOS and Android devices.
Tradutto offers incredible DA performance powered by its ES9038Q2M DAC chip offering up to 32 bit / 68kHz of DSD512 playback. MQA and MQA Studio formats are also catered for, as well as Qualcomm 5.1 HD Bluetooth for longer playback with lower consumption. The Tradutto is fully balanced throughout.
Continuing the Tradutto's trend, CH-Amp features fully balanced architecture and delivers ultra-low THD and SNR power up to a mighty 3.8 watts, making it a formidable match for even the most demanding headphone models. Every CH-Amp ships with an ultra low-noise linear power supply which can also be used to power the other siblings of the EarMen Stack simultaneously without the need for multiple chords.