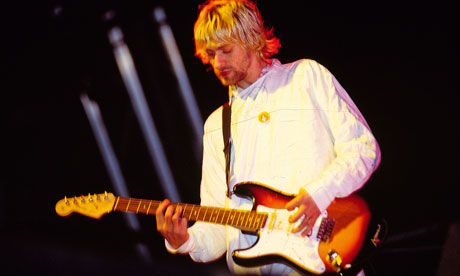 Kurt Cobain loved Abba, wasn't from Seattle and didn't invent grunge. Everett True, the man who pushed the singer's wheelchair on stage for his last UK show, sets the record straight.
I was first flown out to Seattle at the start of 1989. I'd been asked by Melody Maker to write a cover story on Sub Pop Records and its flagship band Mudhoney. It was my first time in the US. It seemed like the Emerald City to me, but instead of Munchkins there were scores of long-haired, hard-rocking, heavy-drinking folk influenced by early Black Sabbath and 60s garage rock. I drank cheap Mexican beer with affable flannel-shirted musicians in Pike Place Market, and fell in love with the place.
A few days after I arrived, there was a label showcase at Seattle University – Girl Trouble, Skin Yard, Nirvana and the Fluid. Nirvana had just released their debut single Love Buzz. I was a performer – hadn't I released the first (much-derided) single on Alan McGee's Creation label? – and so I demanded to play as well. So it was that I found myself on stage, alone, as 800 hardcore kids bellowed back the words to Arthur Conley's Sweet Soul Music at me.