A Coventry woman who won a legal battle to erect a gravestone with an inscription in Irish, to honour her late mother, has described Fontaines DC's new song inspired by the case as "a fitting end to the journey that we went on as a family".
Bernadette Martin, daughter of Margaret Keane, and her family, last year successfully fought for the right to have a Celtic cross bearing the words "In ár gCroíthe go deo" - which translates into English as "In our hearts forever" - on her grave at St Giles Church in Exhall.
A Church of England consistory court had initially rejected their request, insisting on an English translation on the grounds that it could be viewed as a "political statement". But that ruling was later overturned on the grounds of racial discrimination.
Now the same Irish phrase provides the title for what Mrs Martin calls the "stunningly haunting" opening track to the Grammy-nominated group's new album, Skinty Fia. https://www.youtube.com/embed/hjdqNC9foUw?feature=oembedFigure caption, Warning: Third party content may contain adverts
Mrs Martin tells the BBC her family were "totally honoured" that the Dublin band had "recognised our story".
"It was just the last thing we could have ever expected," she says. "When we heard it, the first thing we did, me and my sisters, was to stand at my mum's grave and play it to her and listen to it for the first time at that special place."
It was an "incredibly moving" moment, Mrs Martin recalls, in "our fight to have the Irish language recognised on my mum's headstone".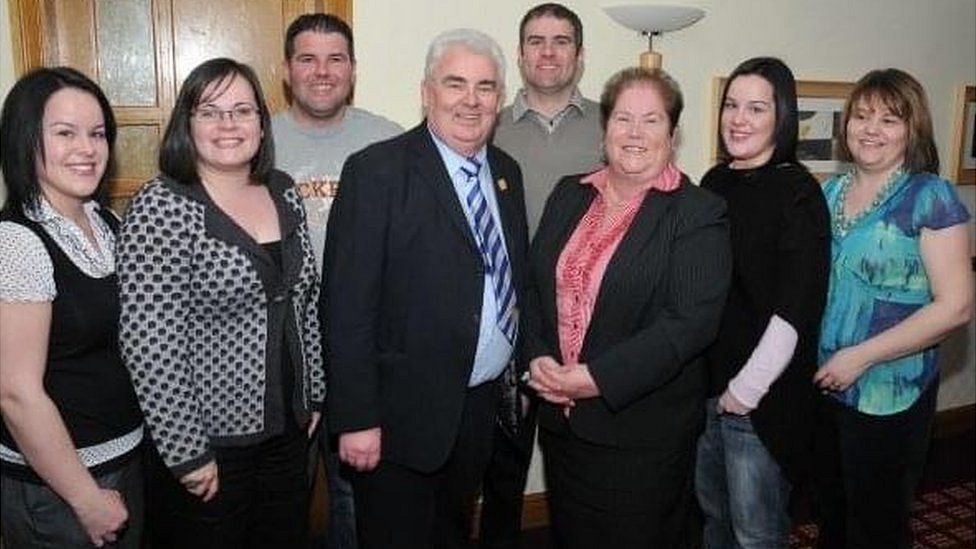 The family's win in February 2021 followed a battle of almost three years to have Mrs Keane's final resting place marked with words from her native land.
Around the same time, her compatriots were up for best rock album at the Grammy Awards, for their previous album A Hero's Death. Frontman and chief lyricist Grian Chatten says having the family get in touch recently - after they saw the new album tracklisting online - to give their seal of approval was "one of the most amazing things that's ever happened".
"That means a lot more to me than any Grammy nomination," he tells us. "Just the fact that we were able to say something about something like that, that didn't disrespect or offend or in any way or commandeer what was essentially a family story."
'Lack of acceptance'
Mrs Keane and her husband Bernie were both born in the Republic of Ireland but moved to the UK at a young age - a journey that the 27-year-old singer and several of his bandmates have also made over the past few years.
Their new album is about being Irish but not being in Ireland, and at times being made to feel slightly unwelcome.
Chatten, who now resides in London with his fiancee, and has English relatives on his mother's side, says he was shocked to read about the family's story, following Mrs Keane's death in 2018, aged 73. He then set about channelling his thoughts and feelings into a song.
"That story came out really soon before I'd made the proper definitive move to London," he explains. "So it made me feel nervous about the move to be honest, it really brought to the fore the idea of the [remnants] of this kind of lack of acceptance.
"The idea that a language in of itself is inherently political is quite deeply judgmental and wrong and backwards. Because that language is the same language is used to say, 'Enjoy your first day at school son'."
"There's more to un-inspire people than conflict," he adds.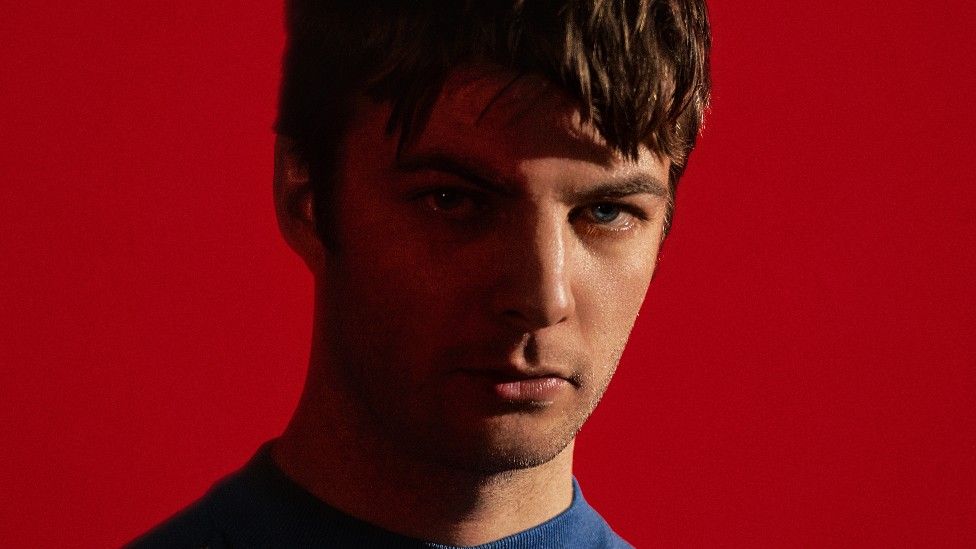 The initial ruling, rejecting the family's wishes, was made in 2020 by the consistory court of the Diocese of Coventry, which BBC News has asked for a comment. The Church of England said at the time that the ruling - which suggested "passions and feelings [were] connected with the use of Irish Gaelic" - "does not reflect" its national policy, adding in a statement that "the Irish language is an important part of the heritage" of the organisation.
Irish was the indigenous tongue across the island of Ireland, but after years of British rule, English became the country's primary language. The use of Irish has become part of the debate around Britain's relationship with Ireland, although Mrs Keane's family insisted they were not making a political point by putting it on her memorial stone.
Chatten says the situation made him think of "my own family in the west of Ireland", playing traditional instruments (he plays an accordion himself on the new album) and singing songs on New Year's Eve. "I think about them being part of this [body] that was being judged in this way, and that makes me feel really personally upset," he continues.
As fate would have it, news that the ruling had been overturned following an appeal came through while his bandmates were putting the finishing touches on their choral (almost funereal)-sounding vocal harmonies on the song In ár gCroíthe go deo, in an Oxfordshire studio.
Bassist Conor Deegan III told the singer he was glad they hadn't heard the outcome beforehand, otherwise they wouldn't have been able to chant the repeated titular refrain with "the same sense of lament".
Fontaines DC, with their intense live shows, were crowned best band in the world at the last month's NME Awards; three years after their fist-pumping debut album Dogrel, which painted a poetic picture of Dublin life, was nominated for the Mercury Prize.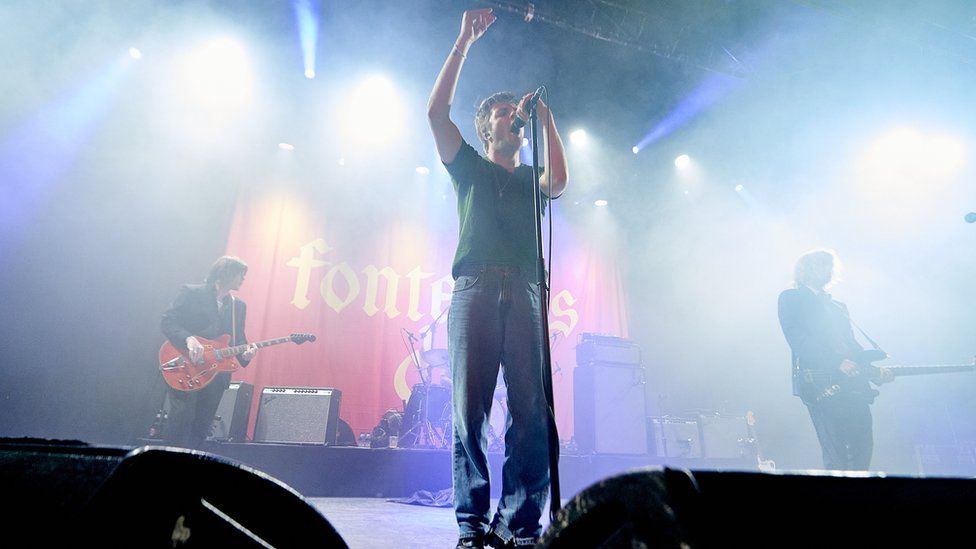 Its darker follow-up, 2020's A Hero's Death, found them ruminating on the realities of life on the road as a newly-famous band ("the necessary cost of writing music" as Chatten views it). Now their more mature, brooding and expansive, groove-driven third LP shows them confidently re-appraising their identity through fresh eyes in a foreign land.
Chatten's experience of living in London, he says, has been largely positive so far. But the cumulative effect of Irish jibes and "jokes about petrol bombs" provided just enough "friction" and "discomfort" to turn to music as a creative outlet.
The results include songs like the doom-laden yet radio-friendly Jackie Down the Line, the beautifully gritty How Cold Love Is; and I Love You - which starts off as a heartfelt sonnet before veering off absurdly into an attack on the authorities back home. "I'm only interested in writing about sunshine if there's a line or two about the gutter or sewage," notes Chatten.
Title track Skinty Fia takes it name from a "poetic swear word" uttered by drummer Tom Coll's great auntie, meaning "the damnation of the deer". Coll, who has helped to update the band's post-punk sound with some drum 'n' bass/jungle-influenced beats this time around, admits he found himself becoming "very overtly Irish in London" initially - feeling a bit guilty about having followed the "very well-trodden path".
"It's important to be proud and really engage with the whole London-Irish diaspora and culture," he stresses.