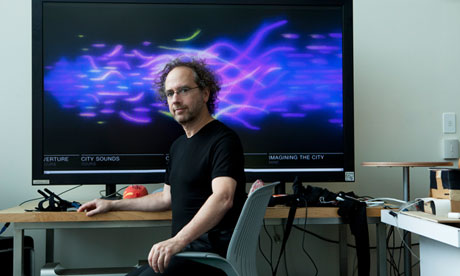 Originally published 2013
Can music repair damaged tissue? Is it possible to hear it through another person's ears? If anyone knows, it's Tod Machover. As he prepares to create an innovative symphony for Edinburgh, Charlotte Higgins meets the music professor.
The producer of 50 Nobel laureates, and the academic home of Tim Berners-Lee and Noam Chomsky, Massachusetts Institute of Technology is America's powerhouse of pioneering thinking. One cold morning, as I step into the bright modern building that houses the research groups collectively known as the MIT Media Lab, I get a taste of some of the ideas brewed here: in the foyer is an exhibition featuring prosthetic running blades used by Paralympians, developed by the lab's biomechatronics group; there are visualisations of bikes that somehow appear to combine urban transportation with online dating. But what I have come to see is upstairs: a glass-sided room containing a grand piano, some vast metal sculptural objects dangling from the ceiling, and banks of screens. This is a laboratory devoted to the music of tomorrow.