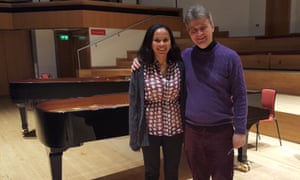 Rebecca Omordia and Mark Bebbington.
Fiona Maddocks writes ....
Among Vaughan Williams's compositional outpourings, only one piece readily comes to mind with a prominent piano part: the song cycle On Wenlock Edge. Thanks to this intriguing disc we realise there was more, the best of it for two players. Arrangements of his Fantasia on a Theme of Thomas Tallis and Fantasia on Greensleeves sound a pleasure to play in the dedicated hands of Mark Bebbington and Rebecca Omordia. The first recording of the two-piano Introduction and Fugue (as its title suggests, a homage to Bach) sounded slightly dogged on first hearing. Yet with repeated listening this substantial work grows more rich and lyrical, in unmistakable RVW vein. Fans as well as completists should try it.