Roisin O'Connor / THE INDEPENDENT
The new Amy Winehouse biopic will focus on her "extraordinary genius, creativity and honesty that infused everything she did". Or so we were told. But then we saw the pictures.
Marisa Abela was pictured outside London jazz bar Ronnie Scott's, with the singer's signature beehive in disarray; black eyeliner smeared around her eyes; a distraught expression on her face. "F***ing revolting," said one comment in response. Some took issue with Abela's lack of resemblance to Winehouse. Others took issue with the fact this film, Back to Black, directed by Sam Taylor-Johnson, is being made at all.
Given the vulture-like efficiency with which her life was picked over, it's near-impossible to think of a sincere reason to make a movie about Winehouse – at least not one that isn't motivated by greed. This July will mark 12 years since her death from accidental alcohol poisoning. Despite her achieving so much in a woefully short career – record deals, Brit Awards, Grammys, adulation from fans and her peers – we will always be faced with the knowledge that she could have achieved so much more.
What don't we know about her story? We know that she was born in Southgate, north London, and showed early promise as an artist while in the National Youth Jazz Orchestra. We know how we fell in love with her music – her extraordinary, soulful voice accented with a distinctive Enfieldian edge; those lyrics ripped from somewhere deep within about love, regret, and screwing up a relationship. We know, too, about the paparazzi scrums trying (and often succeeding) to catch her stumbling out of the Hawley Arms or another of her Camden haunts. We know the many ways she was let down.
She was funny. Brilliantly so. In an early appearance on Friday Night with Jonathan Ross, a 20-year-old Winehouse was asked by her host if her label had tried to "mould her". A gleeful look on her face, she responded: "Um… yeah, one of them tried to mould me into a big triangle shape, and I went, 'No!'" But she took music seriously. She baulked at comparisons to her contemporaries, such as Katie Melua, and was scathing about other singers lumped into the genre that was dubiously dubbed "new jazz". Winehouse was, as she put it, a "straight jazz singer", taking direct influence from the greats and refusing to corrupt her singing style with layers of autotune or pop warbling. Bob Dylan said she had "the last individualist sound". Translation: there was no one like her.
What are we supposed to learn from the new film? There's no entertainment value in revisiting a life and death that, for so many people, is living memory. Abela, at least, has got something out of it, describing her experience of losing weight for the role as "really positive". Bulimia and addiction be damned. Her comment also feels at odds with Winehouse's father, Mitch, defending Abela and suggesting Hollywood relies too much on physical resemblance. Why the painstaking application of hair and make-up, if not to disguise the fact that behind it, there's not a trace of the woman the film is supposed to be paying tribute to.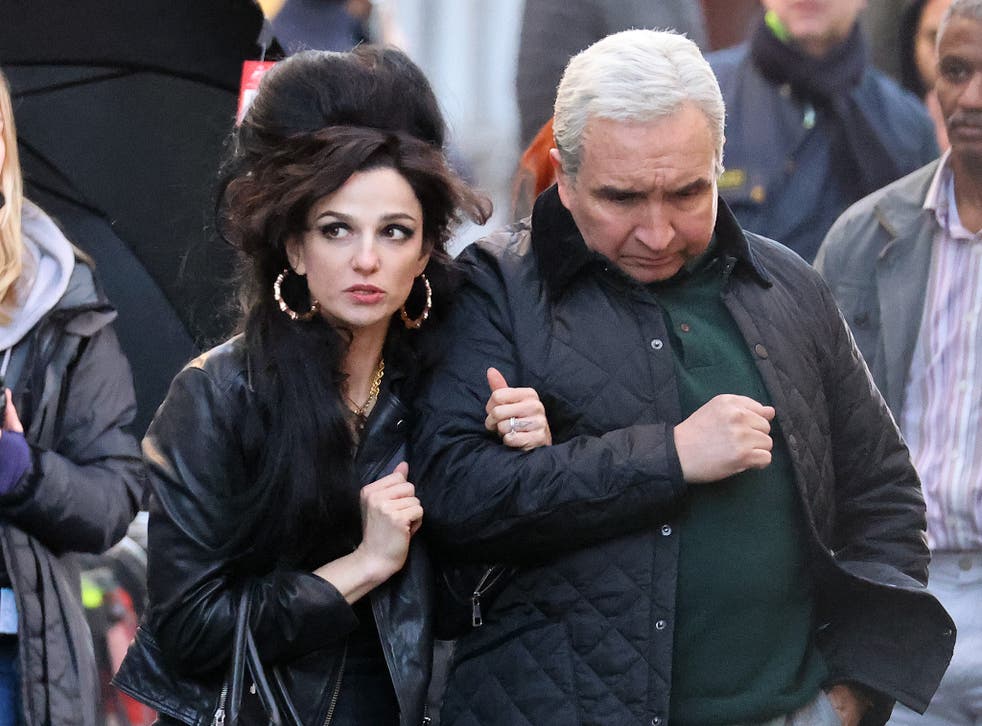 If you really want to know Amy Winehouse, as journalist Fiona Sturges pointed out in The Independent last year, you need only listen to her music. Her debut album, Frank, was just so; the songwriting on tracks such as "Stronger Than Me", "October Song" and "I Heard Love is Blind" is breathtakingly candid. Its follow-up, the universally adored Back to Black, was even better. Mark Ronson helped shift Winehouse's blend of jazz and hip-hop to a bolder, brassier R&B sound. And her lyrics… oh boy. As The Independent's late music critic Andy Gill wrote upon the album's release: "Her sexual frankness and potty-mouthed articulation leaves no room for misunderstanding." Winehouse's lack of shame, he continued, became the album's defining characteristic. Songs such as "You Know I'm No Good" hit you right in the gut: "I cheated myself/ Like I knew I would/ I told you I was trouble/ You know that I'm no good."
While there's clearly still money to be made by dissecting Winehouse's life once more, it's also clear that guilt plays a big part in why people struggle to let her rest. Twenty-seven is far too young a death for anyone. Amplified on the public stage, with talent and tragedy thrown into the mix, the grief and confusion surrounding it feels even more acute. But the last thing we need is yet another visual rehashing of the traumas Winehouse suffered. We don't need a reminder of the ways in which she was failed, because it's still happening. The media is still poking and drooling over other women, like Britney Spears, Paris Hilton, Lindsay Lohan, Meghan Markle. On and on it goes.