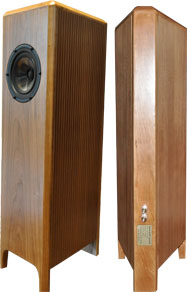 They say: These are the new and completely redesigned Art Deco Coax Speakers finished in solid cherry wood. They will be presented for the first time at the RMAF (Rocky Mountain Audio Fest) October 12-14, 2012. Art Deco is a dual chamber enclosure design with a variable wall thickness, the interior material was chosen for its sound qualities with a high damping factor characteristics. Only the exterior is made of solid wood, front baffle has a minimum thickness of 1.5'' or 38 mm.
Frequency response: 46 - 25,000 Hz
Impedance: 8 ohms
Sensitivity: 88 db
Finishes = Oak with custom wood stains or natural Cherry wood with clear finish.