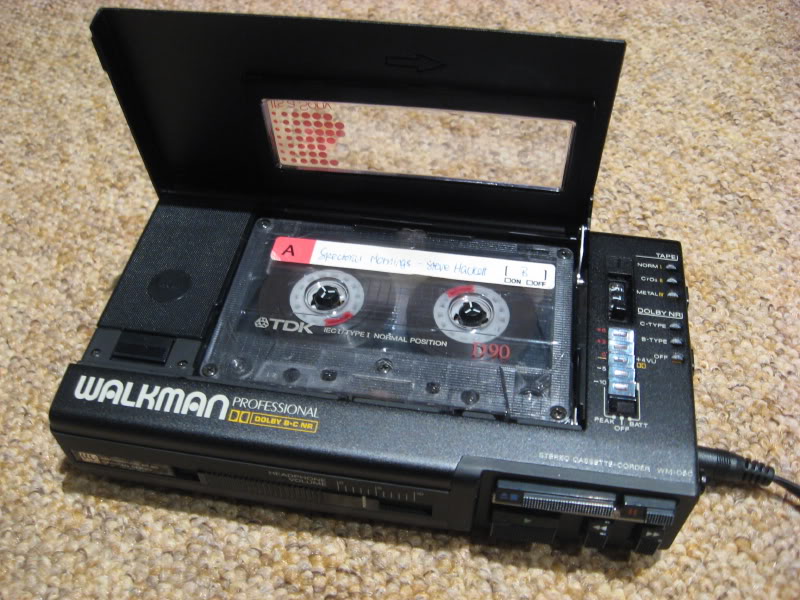 One thing that I've wanted for a long time is a Sony Pro-Walkman. In fact I've wanted one since about 1984 when my dad bought a Sony catalogue home, around the time he bought a Beta Hi-Fi VCR (which I now have

) The price at the time way way out of my reach (£200 something). To rub salt into the wounds my brother bought one in the early 90's. He used it a lot for recording his own music (he played in a band) and the results were phenomenal whether from well-positioned mics or line-input. His was stolen after something like 10 years use. I was gutted 'cos I'd had my eye on it for a loonng time...
Last week I finally found myself a low-hours machine at a good price and it arrived today. New batteries and a quick clean of the pinch-rollers, and head... part of the standard ritual... and tried a tape. Firstly, a Maxell XL-II transfer of the Division Bell CD I did 15 years ago. Very nice. Utter clarity at the top end. Nil perceptible wow and flutter... Then, a vinyl transfer of Steve Hackett's Spectral Mornings from a TDK D90 that a friend did probably around 1989. It's a clean transfer, but to basic tape. Nevertheless the sound is completely clear; there's an openness at the top that only good tape playback achieves.
My Nak has a smidge more at the very top-end, and greater depth at the bottom, but that's to be expected. The fact is that the WM-D6 is well worthy of the accolades; and sounds a lot better than a lot of separate cassette decks I've heard. I think I might be finding excuses to listen to a lot of my old tapes again over the next few weeks!
Dip in and out HERE
===//===
Please click HERE to access the entire VINTAGE archive